Event Information
It's a standup comedy show! Inside Animal Crossing!
It's the world's first-ever Animal Crossing standup comedy show.
And yes, ANYONE can watch this show online (in the world's CUTEST ZOOM MEETING) even if you do NOT play Animal Crossing.
#ComedyCrossing is a free online standup comedy show held inside Animal Crossing, the world's cutest and most gentle video game. #TomNookIsOverParty #TomNookIsACrook
FIRST AND THIRD SATURDAYS (sometimes Fridays) OF THE MONTH
FREE AND STREAMING ONLINE WITH RSVP http://comedycrossing.eventbrite.com. Invite and tag all of your Animal Crossing-obsessed friends who just WILL NOT STOP TALKING ABOUT ANIMAL CROSSING MY GOD.
RSVPs will receive the link for the show on the day of the show. Accepting donations to tip our comedians via VENMO and to benefit organizations supporting the movement for Black Lives.
Hosted by Jenny Yang @jennyyangtv (E!s Busy Tonight, Fox's Last Man Standing)
#ComedyCrossing is produced for joy and gentle fun by Jenny Yang and co-produced by Chris Bryant and Marie Soledad. We are not affiliated with Animal Crossing nor Nintendo.
NEXT SHOW IS SATURDAY, AUGUST 1ST, 2020 – 7PM PST ONLINE VIA ZOOM. WE EMAIL YOU THE ZOOM LINK JUST BEFORE THE SHOW STARTS!
Hosted by Jenny Yang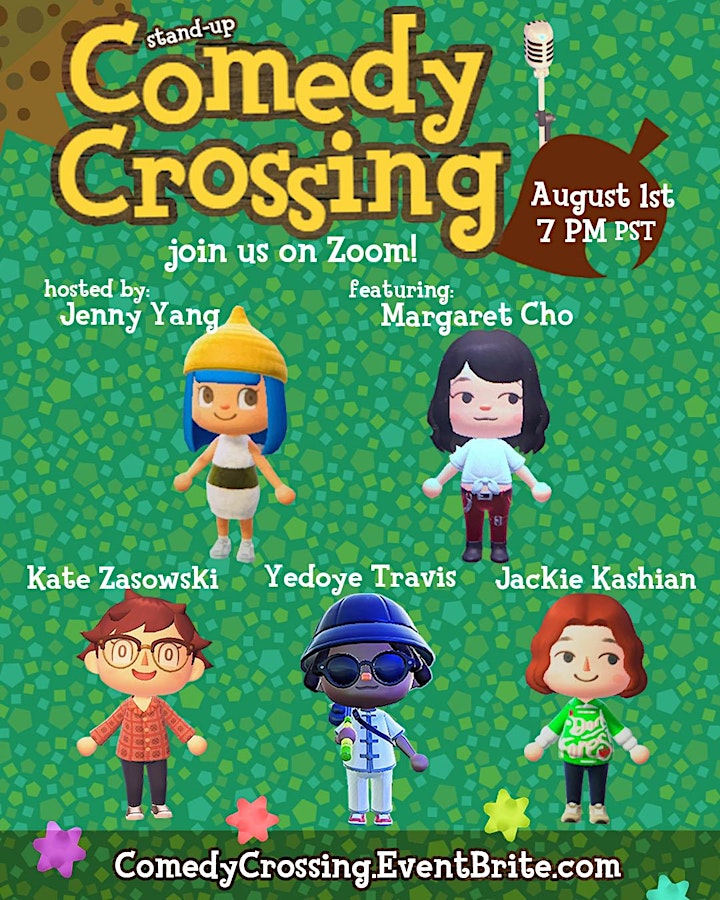 Categories


Online Event Free
Tag:


We do not book for this event.Partner registration may be found at bottom of the page. Curated events are published as seen. The organiser and author have no role in the event. For updates check with sources in event information above.